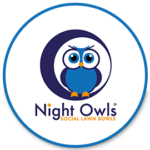 The wind up of night bowls for 2018/19 was played on 13th March 2019 with a free BBQ for all players and workers. Challenges were put out to some teams by teams they had played during the year.
Master of Ceremonies, Glen Tilley, thanked all players, office staff and all other helpers for assisting over the Night Owls season. Ever one had a great time. President Dirk Pietersma also thanked all participants. The night ended with the presentation of all trophy winners. The photos show the wind-up of the night.
Sponsored by G.O and J.M Davis Carpentry, Garry is shown in each photo
The Encouragement Awards in each Division and sponsored by Big Trev's Gas & Plumbing
The results for the 6th of March have now come through.
Congratulations to all the winners and place getters for 2018/19 Night Owls Season
Compiled By Lindsay Warneke
Compiled by Lindsay Warneke